Everything I Ever Needed to Know About Business I Learned from The Notorious B.I.G.'s Hypnotize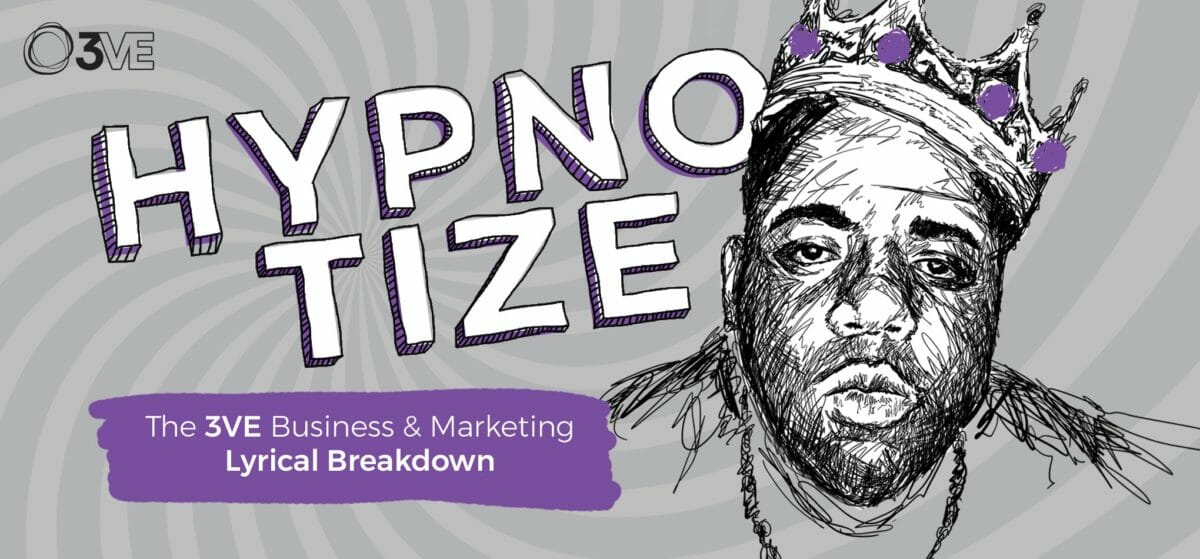 The Notorious B.I.G. was one of the most influential rappers to ever walk the planet. His hit song "Hypnotize" spent 20 weeks on the Billboard Hot 100 Chart in 1997 as his style and flow defined hip-hop for the next generation.
However, "Hypnotize" is a lot more than a platinum-level hit by one of the most influential artists of all time. It's actually the best guide I have ever heard to succeeding in business and marketing, if you look below the surface of the lyrics. So line by line, I have broken down the lyrics to extract the business, marketing, and life lessons. As the lyrics may be offensive to some, user discretion is advised.
Hah, sicka than your average
While confidence is critical to success, a true competitive differentiation is the keystone to growth. A competitive differentiation raises you above the herd.
Poppa twist cabbage off instinct
Follow Your Gut. It often ends up paying off, and even if it doesn't, you've learned something.
N**** don't think shit stink, pink gators,
My Detroit players
Your competition may make claims, but, again, that competitive differentiation comes into play. It must be not easily replicated, relevant, and actually true.
Timbs for my hooligans in Brooklyn
Take care of your business partners. It makes a huge difference when the people you work with actually like and respect you
Dead right, if the head right, Biggie there ery'night
Offering quality service, a quality product, a quality business will keep people coming back.
Poppa been smooth since days of Underroos
There's no substitute for experience. Period. Get yourself out there and experience as much as you can.
Never lose, never choose to, bruise crews who
Failure is not an option. This should be your mindset for every project you take on, every client you meet with, and every pitch you develop.
Do something to us, talk go through us
Put your money where your mouth is. If you can't talk the talk and walk the walk then you lose credibility.
Girls walk to us, wanna do us, screw us
Who us? Yeah, Poppa and Puff (hehehe)
Reputation management is important, obviously. Your individual reputation, as well as your business reputation, impact your lead flow.
Close like Starsky and Hutch, stick the clutch
Keep your friends, always look for opportunities to continue networking.
Dare I squeeze three at your cherry M-3 (Take that, take that, take that, haha!)
Be precise, careful, and strategic in your…
Bang every MC easily, busily
…tactical approach.
Recently n***** frontin ain't sayin' nuttin' (nope) so I just
Your target market may have heard it all. They may have been burned many times over by businesses with the same goal as yours. In order to succeed, your differentiation must be verifiable, not easily replicated, and actually true.
Speak my peace, (c'mon) keep my piece
This is another way of saying speak softly and carry a big stick. In managing employees, their respect for you is more valuable than being a yelling head.
Cubans with the Jesus piece (thank you God), with my peeps
Keep an eye on your competitive landscape and lean on partners to get a more accurate picture.
Packin', askin' who want it,
Don't say anything you're not ready to prove or back up. The world is full of people offering nothing but smoke and mirrors, don't be one of them.
you got it n**** flaunt it
Showcase your success. The only way to get more business is to prove to others that you have a storied past full of successful encounters and ventures.
That Brooklyn bullshit, we on it
Let old claims die. Tactics in this field change constantly, don't be stubborn and resist the change, no matter what principals guide your tactics.
Chorus:
Biggie Biggie Biggie can't you see
Sometimes your words just hypnotize me
And I just love your flashy ways
Shiny object syndrome is a real issue for businesses. People are often distracted or hypnotized by the newest person or trend or thing, whether it's flashy, over-the-top, or just the "savior." It becomes an issue because shiny objects always dull… you must be your own savior.
Guess that's why they broke, and you're so paid (uh)
Hard work, fearlessness, passion, and dedication will keep your bills paid.
*Chorus*
I put hoes in NY onto DKNY (uh-huh)
Miami, D.C. prefer Versace (that's right)
All Philly hoes, dough and Moschino (c'mon)
Remember that different demographics will respond differently to a brand. There's no substitute for good market analysis.
Every cutie wit a booty bought a Coogi (hah!)
Sentiment and affiliation matter. People make decisions with their hearts and their wallets. Get to the former to get to the latter.
Now who's the real dookie, meanin' who's really the shit
Be confident and own what you do.
Them n****s ride dicks, Frank White push the sticks
On the Lexus, LX, four and a half
Bulletproof glass, tints if I want some ass
Don't forget to plan for EVERYTHING. There is no such thing as too much preparation and planning. Risk mitigation is the difference between life and death.
Gon' blast squeeze first ask questions last
Don't miss your opportunities, you never know when more will come back around.
That's how most of these so-called gangsters pass
There's a lot of false prophets out here. Don't be fooled by them.
At last, a n**** rappin' bout blunts and broads
Tits and bras, menage-a-trois, sex in expensive cars
Don't forget to have fun with what you do. If you can find the fun in your business then everything else gets easier to deal with.
I still leave you on the pavement
Work hard, play hard. If you don't, you'll go crazy. Finding the right balance between both is key.
Condo paid for, no car payment
Don't take on debt you can't afford.
At my arraignment, note for the plaintiff
Your daughter's tied up in a Brooklyn basement (shhh)
Face it, not guilty, that's how I stay filthy (not guilty)
Mitigate risks, always plan for them and be ready to counter them. Even if it's unlikely to occur, mitigating risks and having a plan is the difference between survival and death.
Richer than Richie, till you n****s come and get me
I can fill ya wit' real millionaire shit (I can fill ya)
People are going to come after your success and try and take advantage of it. Be cautious and invest in those who you are close to.
*Chorus*
Escargot, my car go, one sixty, swiftly
Wreck it buy a new one
Debt isn't just applicable to business. A check or two might feel endless, but it's not. Plan and budget accordingly so you don't end up in a bad spot later on down the road.
Your crew run run run, your crew run run
I know you sick of this, name brand n**** wit'
Flows girls say he's sweet like licorice
So get with this n****, it's easy
Brand management is important. If your brand is amazing, people will come to you. Marketing becomes easy.
Girlfriend here's a pen, call me round ten
Come through, have sex on rugs that's Persian (that's right)
Always be closing. You never know when opportunity will strike.
Come up to your job, hit you while you workin' (uh)
For certain, Poppa freakin', not speakin'
Leave that ass leakin, like rapper demo
Tell them hoe, take they clothes off slowly
Develop tactical plans and implement them.
Hit 'em wit' the force like Obi,
Work hard. As hard as a Jedi, if you have to.
dick black like Toby (Obe, Toby)
Know your market.
Watch me roam like Romey,
Expand your market.
Lucky they don't owe me
Where the safe show me, homey (say what, homey)
Money is due on receipt, you're not a bank.
---
Whether you're a hardcore East Coast hip-hop lover or a dedicated professional just trying to get a leg up in the business world, you should consider listening very closely to Big Papa with all his business and marketing savvy.
---