Individual and Organizational Growth: A Story about Rebranding, Fasting, and Puppies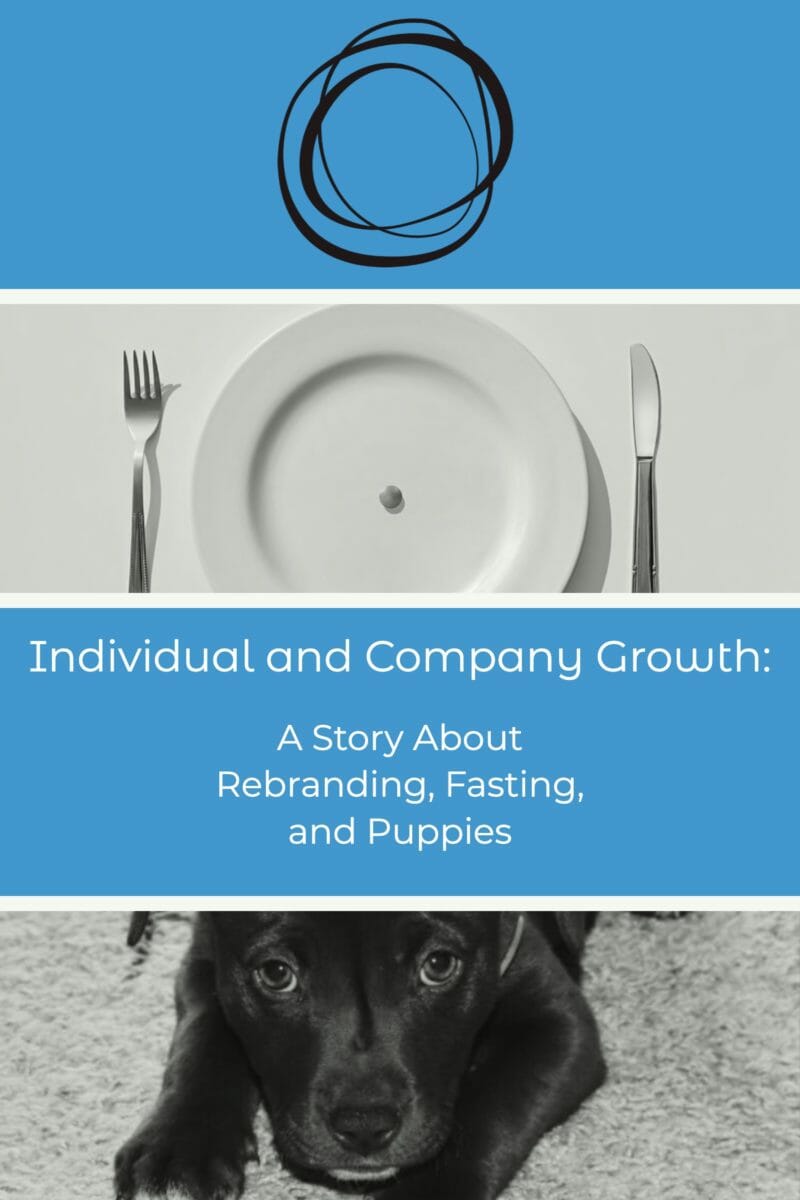 In February of 2018, my team and I were ready to begin the terrifying but necessary task of rebranding our company. The rebrand wasn't just an update to our "look and feel," though valuable in and of itself. The core driver was to launch a "brand" (not to be too pun-y) new company. We needed a fresh start that embodied our transformation. We embarked on a journey to change everything.
Over the years, we evolved into a creative agency that delivers strategy and marketing services, branding, and more… we were no longer the website development shop that our tête-à-tête-turned-modest-company had started life as. What I didn't know was around that same time, I was about to start a rebrand of my life. I was wishfully dreaming of something just as life-changing as a child waking up to a new puppy on Christmas morning.
When I founded the company in 2009, I had always been blessed to be healthy and in good shape (as youth will often automatically grant you). By 2011, with the long nights and stress of a startup, I had gained over 50 pounds.
I battled back, and in 2012, I lost all the weight through diet and exercise (I still had a relatively young, albeit slowed, metabolism on my side). In 2013, to my dismay, my excess weight yo-yo'ed back into the picture. The joke with my family, friends, and coworkers became that I would be in shape during even years and out of shape during odd years.
It was 2018 and (coincidentally) an even year. It was time to lose the weight again. My yo-yo diet left me with hypertension and daily blood pressure medication. Add a cholesterol medication in for extra kick and my morning cocktail of prescriptions was getting a bit daunting. Lucky me. This chubby puppy wasn't learning any new tricks and it was time for a change.
One evening I stumbled across a podcast discussing the benefits of fasting. I decided to read some books on the topic and listened to more podcasts. Doing something so drastic, something that required so much self-discipline, appealed to me at a base level. It wasn't about punishment; it was about exerting control over my life and owning my own health. I could do that. This isn't the type of fasting that was unhealthy, in fact, it was endorsed by a great many doctors (should it be done in the proper way). It had been proven to help rewind the clocks on a lot of the comorbidities I was experiencing. I was sold.
Here are some quick facts I found online before I went on this journey about fasting that directly applied to my situation.
Scientific Research shows fasting helps to:
Reduce Cholesterol ✓
Reduce Blood Pressure ✓
Weight loss ✓
So I shared my plans with my doctor, had some bloodwork completed, and he blessed my plan. My regime was about to be:
No breakfast
No lunch
Black coffee and unsweetened tea (as much as I could want)
Water
A large dinner
Could this overweight puppy learn some new tricks?
The fasting began.
Back to the rebrand.
Imagine watching fifteen puppies playing in the Puppy Bowl, being adorable, tripping, and jumping on each other.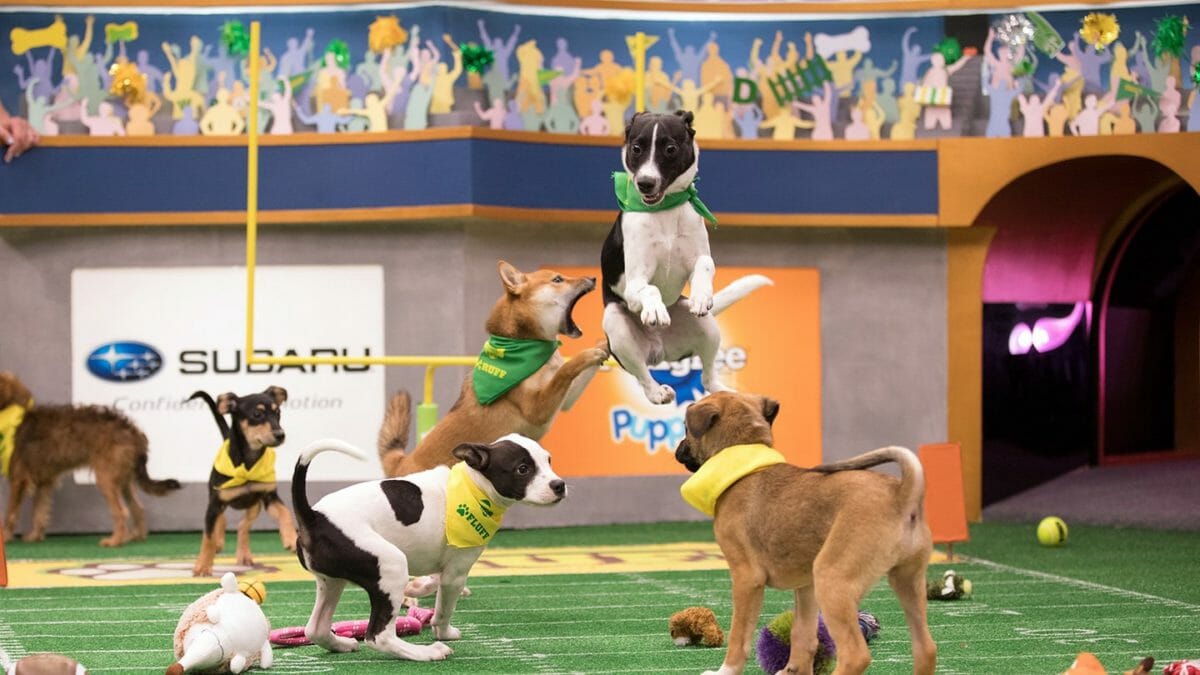 That was our rebrand kickoff meeting and we were all in love. Though we did follow a proven process, the excitement threatened to derail it several times.
We dug deep into the branding process by asking ourselves the hard questions through fresh eyes:
What are our values?
What are we driving towards?
What do our current clients think about us?
What journey have current clients followed with us?
Where are we strong and where are we weak?
What is our purpose?
I'm not ashamed to admit that at times it felt like all fifteen of those oh-so-adorable puppies were in the conference room barking non-stop and peeing on the floor.
We had plenty of ups and downs and, at times, wondered how was it so much easier to work on a client's brand? Was it because it was ours? Was it because we were too close to it? During those times, we had to all come together, zoom out, and remember we are a team that puts so much pride in what we do.
The unifying common denominator was that we all wanted a brand that we were proud to show to our clients. Our rebrand is days away from launching (around December the 3rd). I've seen all the assets and I am ecstatic. It is so truly reflective of us.
My anecdotal research shows rebranding your own company makes you madly insane, but in the end, exceptionally proud of your team.
I'm ecstatic to say that I've maintained my weight in 2019, I'm off all medications, and I feel like an old dog that has learned some new tricks. The team makes fun of me when we have company lunches, as I sip my unsweetened tea and eat air, but for me, this was about taking control and doing the hard thing. It was what needed to be done.
My fasting forced growth upon me. You're never ready for the work of growing but you're always ready to experience growth. The fasting was the slap-in-the-face and self-discipline I needed to grow. The rebrand was the slap-in-the-face and self-discipline my company needed to grow. I look at my puppies like old, loyal dogs now. We all have seen some dark days, but are much wiser for it. We've grown and it shows.
The rebrand on both my life and my company has brought a breath of much needed fresh air into my life. I've been able to look into the future and visualize a healthy life and a company that is positioned for success and growth moving into 2020 and beyond.
My new mission is to not only help achieve our client's goals but to help and support the goals of everyone that works with me at 3VE.