Everything I Ever Needed to Know About Business and Life I Learned From Jay-Z's "Public Service Announcement"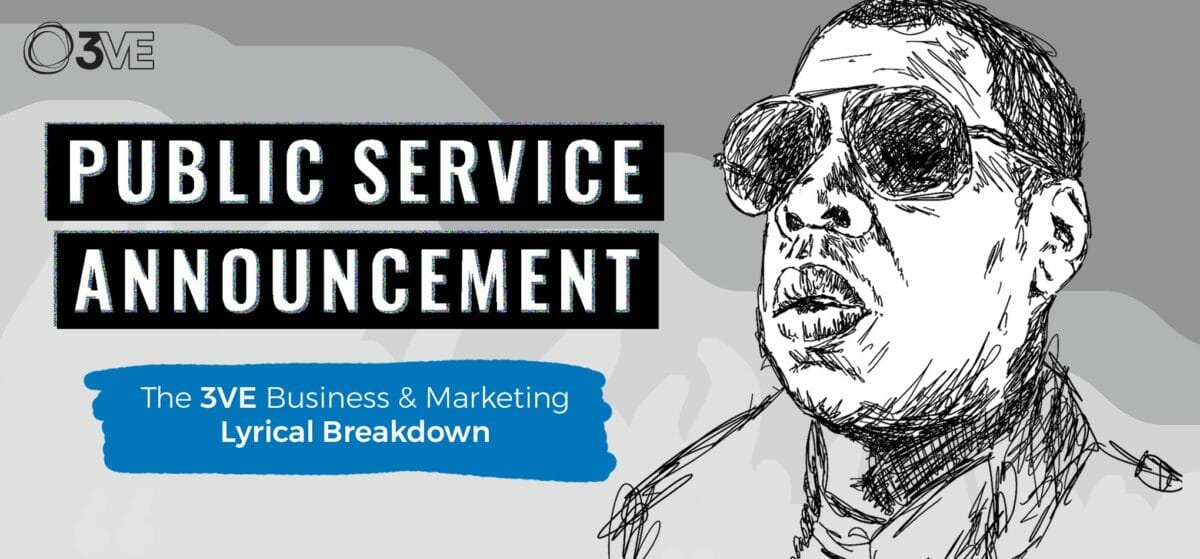 One of the most prolific songs in his entire discography, Jay-Z's Public Service Announcement is an anthem for the successful entrepreneur. His motivational ballad speaks to our souls: never forget where you come from and refuse to let people stop you on your way to greatness. With a serious undertone to its rhythm and a heavy beat that drives home each masterfully crafted line, H-to-the-O-V proves that "no one can do it better" in laying a great blueprint (pun fully intended) on how to stay on your grind in the face of adversity. Here's our spin on his bars…
(NOTE: There is some NSFW language in this post in copying the lyrics from the original song, though it has been censored, it may offend some.)
This is a public service announcement
Sponsored by Just Blaze and the good folks at Roc-A-Fella Records

"Fellow Americans, it is with the utmost pride and sincerity that I present this recording, as a living testament and recollection of history in the making during our generation."
Like HOV and Just Blaze, we are putting this song out there to motivate the entrepreneurs who are overwhelmed by their dwindling energy and sleepless nights. Hype yourself up. Treat yourself. You deserve it.
Allow me to re-introduce myself
Don't let people forget who you are. First impressions are critical, but secondary impressions solidify your memory.
My name is Hov' (oh) H-to-the-O-V
Who says every entrance can't be grand?
I used to move snowflakes by the O-Z
It doesn't matter where you came from or what you've done…
I guess even back then you can call me
CEO of the R-O-C, Hov'
You were meant for this business.
Fresh out the frying pan into the fire
Life happens. Things pile up and after a while they can seem overwhelming.
I be the, music biz number one supplier
Flier than a piece of paper bearing my name
With this clever play on words, Jay-Z is not only saying that he is "fly," i.e. cool, but also that he is a better attention-getter than an actual flier. Sometimes the best way to connect with people and grab their attention is to put yourself out there.
Got the hottest chick in the game wearing my chain, that's right
Cool people attract cool people.
Hov' (oh) not D.O.C.
Don't neglect time-tested methodology or those wiser and more experienced than you are. They've seen stuff you haven't and will teach you a thing or two.
But similar to them letters, "No One Can Do it Better"
I check cheddar like a food inspector
But at the same time, don't be afraid to chart your own path. Developing a strong competitive differentiation coupled with your own dedication and hard work will give you what you need.
My homey Strict told me, "Dude finish your breakfast"
Nothing sucks more than a lost opportunity. Follow up to ensure you make the most out of every opportunity that comes your way.
So that's what I'ma do, take you back to the dude
With the Lexus, fast-forward the jewels and the necklace
Don't forget where you came from. You deserve to celebrate. The work you put into being where you are is awe-inspiring.
Let me tell you dudes what I do to protect this
Shoot at you actors like movie directors
Just don't let ANYTHING put what you have at risk…
This ain't a movie dog (oh shit)
…because now you have something to lose. In business the stakes are real.
"Now before I finish, let me just say I did not come here to show out, did not come here to impress you because to tell you the truth when I leave here I'm gone! And I don't care what you think about me, but just remember, when it hits the fan brother, whether it's next year, ten years, twenty years from now, you're gonna be able to say that these brothers lied to you Jack!"

Ting ain't lie
I done came through the block in everything that's fly
I'm like, Che Guevara with bling on, I'm complex
Be the revolutionary you were destined to be, but make sure you keep a little bit of that hunger and street hustle. It's in that very blend you will ensure you and yours never go without.
I never claimed to have wings on
Besides… you never said you were an angel.
Ni**a I get mine, by any means on whenever there's a drought
Get your umbrellas out because, that's when I brainstorm
When things are tough and the pressure is on, you do your best work. Resourcefulness, coolness under pressure — a good entrepreneur's got it all!
You can blame Shawn, but I ain't invent the game
I just rolled the dice, trying to get some change
And I do it twice, ain't no sense in me
People will hate because of what that resourcefulness or fight to survive has forced you to do. But let the haters do what they do…
Lying as if, I am a different man
Instead of fronting, be okay with it all. Make peace with who you are.
And I could blame my environment but
Because neither gangsters or good professionals play the victim.
There ain't no reason why I be buying expensive chains
Own it. Own your wins. But own your mistakes too.
Hope you don't think users are the only abusers
ni**as getting high within the game
if you do then, how would you explain?
I'm ten years removed, still the vibe is in my veins
Your past will call you back. It will judge you. It will try and tell you that you've changed.
I got a hustler spirit, ni**a period
Check out my hat yo, peep the way I wear it
Check out my swag yo, I walk like a ballplayer
No matter where you go, you are what you are player
And you can try to change but that's just the top layer
And maybe you have changed on the surface. But so long as you don't forget your roots…
Man, you was who you was 'fore you got here
You are definitively "you," in whatever evolutionary path that has taken.
Only God can judge me, so I'm gone
Either love me, or leave me alone
Besides that, who cares what anyone says or thinks. You do you, hustla!